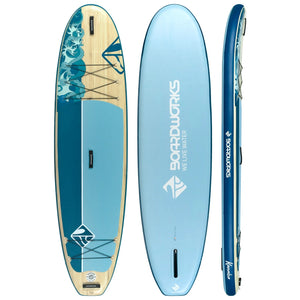 The SHUBU Kanaloa is our brand-new high-end board designed to get you on the water fast and affordably. A light weight, versatile board that loves to travel, the SHUBU Kanaloa comes with our ultra-comfortable Honey Fomb heat embossed deck pad and neoprene carry handles for easy transport to and from the water. It's made with 2 layers of PVC that are heat fused together. It benefits from the performance and durability of our original double layer iSUP construction, without the added weight and ecological impact.
Length: 124 in - 314.96 cm
Thickness: 6 in - 15.24 cm
Width: 32 in - 81.28 cm
Weight: 22 lb.
Fin set: SINGLE
Fin included: 9'' Dolphin
Construction: DFL Construction
Novice MAX.: 210 LBS.
Intermediate MAX.: 230 LBS.
Advanced MAX.: 260 LBS.