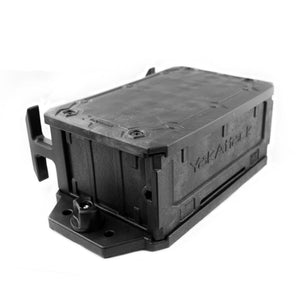 Depthfinder installation on kayaks just got smarter. The YakAttack CellBlok is a track mounted battery box and its top surface serves as a mounting platform for the display and transducer deployment arm. No more drilling holes in your kayak or routing wires! Simply loosen the two track mount knobs and the CellBlok allows you to quickly and easily attach or remove your depthfinder. A minimum of 10.5" of track is required to attach the CellBlok. The YakAttack
SwitchBlade Transducer Deployment Arm
and our line of
fish finder mounts
pair perfectly with the CellBlok to create a complete fish finder mounting solution. This updated version of the CellBlok is new for fall 2020 and features an injection molded construction compared to the original model. The change in material has resulted in a 25% weight reduction and we also increased the size of the cable wraps to accommodate the larger wires used in today's fish finders.   
Interior Space - 6.375'' long x 4.25'' wide x 2.60'' tall
Exterior Dimensions - 10.25'' x 6.75'' x 3.50''
CellBlok box only with hardware to attach to GearTrac.
Made in the USA

Covered by our Built for Life Guarantee

CellBlok weighs 1.4 lbs.

GearTrac, fish finder mount, transducer arm, and display not included.

Assembly required

Can be attached to YakAttack GearTrac and most other kayak track systems

Fish finder mount and GearTrac not included

Made in the USA

Popular batteries include the YakAttack/Nocqua 10ah, Dakota Lithium 10ah, and the Amped Outdoors 12ah

Made from premium materials designed for use in harsh marine environments

SKU: CLB-1002